Union County Democrats
Occupy La Grande!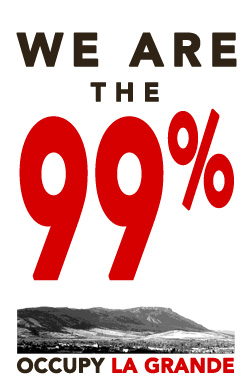 Over the past few weeks Occupy Wall Street has grown from a handful of protesters in New York City to a national mobilization of tens of thousands.
Demonstrations of more than 20,000 are occurring in New York. 10,000 people marched and filled Pioneer Square in Portland. More and more Occupy groups are organizing and demonstrating every day. And now... Occupy La Grande!
At noon on Thursday, October 13, Occupy La Grande supporters will gather in Max Square. Our focus is the same as groups all across the country: Jobs, Not Cuts; Fair Taxes on Everyone; Hold Wall Street and Corporations Accountable.
We plan to march to Congressman Walden's office on Washington Avenue. We'd like to know where Mr. Walden stands on Contract for the American Dream. The contract outlines policies that will help rebuild the American Dream -- investing in our infrastructure, creating 21st century energy jobs, investing in public education, providing Medicare for All, making work pay, securing Social Security, returning to fairer tax rates, ending the wars and investing at home, taxing Wall Street speculation, and strengthening our democracy.
We will then walk to Wells Fargo Bank and read the official statement of the Occupy Wall Street protesters. We want to highlight the increasing role that banks and other corporations play in buying elections and distorting democracy. We want to highlight how this influence benefits the wealthy and harms working families and the middle-class.
Please join us. Share this information and bring your friends. Bring your signs to help focus our message: Jobs, Not Cuts; Fair Taxes on Everyone; Hold Wall Street and Corporations Accountable!
I look forward to seeing you on Thursday!
Glen Scheele
Chair, Union County Democrats
Link to the Occupy Wall Street statement:
http://nycga.cc/2011/09/30/declaration-of-the-occupation-of-new-york-city/
Link to the Contract for the American Dream:
http://contract.rebuildthedream.com/
Declaration of the Occupation of New York City | NYC General Assembly nycga.cc
As we gather together in solidarity to express a feeling of mass injustice, we must not lose sight of what brought us together. We write so that all people who feel wronged by the corporate forces of the world can know that we are your allies.