Jamie Supporters -- Jamie McLeod-Skinner's campaign is generating unprecedented levels of excitement in Oregon's 2nd Congressional District, and across our entire state.
That's why I wanted to share this note from Jamie's campaign director. Over the course of this campaign, Jamie has logged tens of thousands of miles traveling in her Jeep across the district, talking with voters and making the case for why they should vote for her in this year's critical elections.
And in these final days of her campaign, the support you can give to Jamie and her team could make the difference. Take a look:
Great news! According to recent polling Jamie is within single digits of the Greg Walden, who has less than 50% support. After 20 years in office, we are making history together in the 2nd Congressional District! We need your support to finish strong.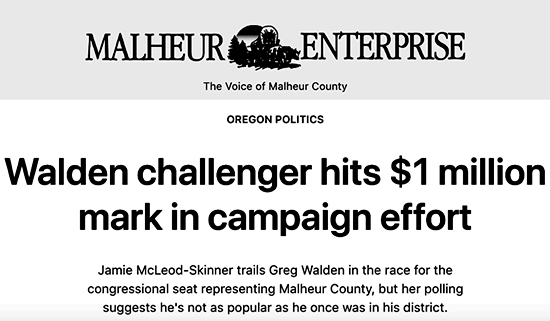 Please give now to narrow the gap! We need to raise another $200,000 to ensure that Jamie's TV ads can stay on the air. Her opponent has never faced competition this fierce and determined to win, as the poll and fundraising prove.